The prospect of working from home is indeed a sheer delight because it allows you to earn reliable income at your own pace and without having to be in an office or work site. However, working remotely also means that you must have a dedicated space in your house to be purposed as an office.
If you are here today to know the home essentials you need to consider, then you definitely have come to the right place! In this article, I will provide some basic items that have to be in your work area at all times in order for you to take on the task flawlessly.
So without any further delays, let's begin…
Personal Computer or Laptop
A laptop or personal computer is a must-have. Working from home means that you will have to use these devices to connect with your potential clients and accomplish the task assigned to you.
The good news, however, is that you really don't need a high-end gaming laptop. A typical laptop or PC that has basic features and allows you to improve productivity is enough.
Stable Internet Connection
Internet connection is another essential that you need to have in your home office because it is basically your main line of communication with your work and other activities that will accomplish the task.
Again, I have to note here that your gadget and any accompanying technologies don't have to be top-of-the-line or super advance, such as your internet connection. The key you have to remember is that as long as your internet service provider doesn't interfere with your efficiency at work, then everything should be fine and dandy.
Work Desk and Office Chair
Working from home also means setting up a particular section of your home to be a purpose for such matters. What it indicates is that you have to put up an office desk and chair in that part of your home. The setup offers more than just aesthetics because it also gives you tons of functionalities which include keeping your documents and other essentials.
Although you can basically work in any part of the house, it is not recommended that you work in your bedroom or kitchen where you sleep and eat.
Office Supplies and Equipment
Although you may be using your laptop or PC most of the time, it is still inevitable for you to use regular office supplies like pieces of pens, sticky notes, notebooks, pen holder, printed materials, staplers, etc. In addition, you will need certain equipment like a printer or another monitor. You may use them eventually for record-keeping, journalizing, and reminders, just to name a few.
Fortunately, office supplies and equipment aren't as boring as they appear to be—you can opt for personalized items that add style to your room, such as a customized pen holder or set of pens.
Good Lighting System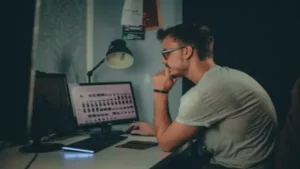 A room that has a good lighting system is essential and beneficial to your optical health and mind. Although some people prefer a dark room, you will eventually need lights as you are finishing a project. Also, it would be a great idea to get your workstation near the windows as possible to benefit from the natural lights coming from the sun and rest your eyes on the nature around you.
Noise-Canceling Headphones
Hearing the sounds of nature during the morning is definitely joyous and relaxing. However, this won't be the case all the time, especially if you are living in the city. Anyway, once the noise pollution is starting to get under your skin, then you may need to avail a pair of noise-canceling headphones to relieve yourself of the disturbing unwanted sounds.
Final Thoughts
Although the idea of working from home talks about taking advantage of technology, we still need the aid of advantages that comes with traditional work setups, such as a desk, office supplies, a good lighting system, and the like.
With this being said—the items, gadgets, and furniture I have discussed in this article are among the basic ones you have to bear into consideration in order for you to work effectively and efficiently even without having to leave your home.